Last Sunday when Roger Federer won the 2018 Australian Open, it sure shocked the world as all the top players were eliminated earlier in the championship 2 sets all and going into the 5th set speculation was rife whether a 37-year-old could pull it through against a six-foot-six-inch competitor almost seven years his junior.
Federer did it and went on to become a legend with his 20th career grand slam win and 96 ATP titles. The win took his prize money to $115 million not taking into account the sponsorship endorsements. The tears he shed post accepting the trophy brought out the emotional side in him that really won the world to my mind. Let me capture the essence of this personality.
Roger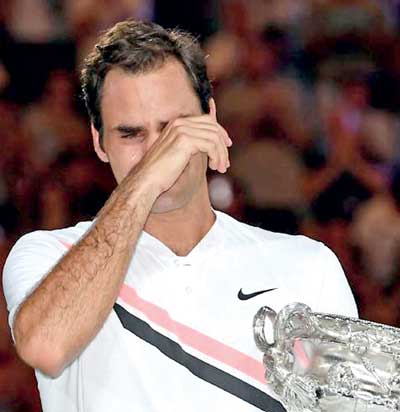 He was born on 8 August in the picturesque town of Basel, Switzerland. His father, a Swiss resident Robert Federer, and mother, a South African Lynette Du Rand; the couple had met on a business trip while working for a pharmaceutical company.
Federer has won eight Wimbledon titles, six Australian Opens, five US Open championships, and the French Open once. In his career he has made it to the final 30 times and the semi-finals 23 times, which highlights the many times he has failed in his life before winning.
Roger Federer has been named Sports Personality – Swiss seven times and ITF world champion five times whilst in the great Lauren's World Sportsman of the Year a record four times from 2005-2008 which gives an idea of the power of the brand.
Lesson 1: Pick your passion early
At the tender age of eight he started playing tennis and football and by 11 he was one of the top 3 junior tennis players in Switzerland. By 12 he had found his passion; he decided to quit other sports and focus all his efforts on tennis. His idols were the great German Boris Becker and Swede Stefan Edberg. A pick-up is focus on a sport early if you are serious and more importantly a mentor.
Lesson 2: Shock to mature 
Federer's coach between nine to 18 years was Peter Carter. He is the one who is said to given the strong basics to Federer to get such a strong technique whilst keeping the youngster out of trouble when he was in his teens.
Carter was unfortunately killed in 2002 (a week before his 21st birthday) in a car accident in Kenya that really shook Federer. The devastating incident is said to have matured him from a boy to a man. Psychologists say that this kind of shock is required to move a person to independence. However a point to note is that such a shock can make a person continue the same behaviour or move to a new thread, which is the danger.
Lesson 3: Read the DNA
One of the strategies pursued by the Federer camp was studying and mapping the DNA of his key competitors. Apparently Nadal and Murray have a reaction DNA whilst Federer and Djokovic are strong on attacking. Scientifically it is a combination of how one is wired and muscle formation.
Federer's coach has voiced that whilst identifying this trait, one can move the behaviour to being a runner and chaser, which is where Federer gets his competitive edge. Hence we see the intelligence and technology coming to play when one is competing at that level.
Lesson 4: Facing generation
Top athletes who continue to perform over a period of time have to learn how to handle generation changes. Federer has grown to handle Hewitt and Roddick then to Nadal and Murray and now the generation of Chilic and youngsters from South Korea in today's game. This calls for changes in the game and the management of the overall psyche of the match. In a game like tennis, the latter in particular is important as it weighs stronger on the influence criteria.
Lesson 5: Appetite to play 
Roger Federer even after 96 ATP titles and 20 grand slam wins under the belt that included eight record-breaking Wimbledon championships, he continues to fight his age and receding hairline as his appetite to play the game is strong. Even post-winning the Australian Open 2018, a point he highlighted was he had forgotten to mention in his victory speech: "I will be back in 2019." This is a key characteristic of a true champion. He is never content and always wants to stretch himself further.
Lesson 6: Bottom up 
Believe it or not Federer was ranked number 702 in 1998. Then he moved to the top 400 by the turn of year 2000. By the year 2004 he was number one and went on to be Lauren's World Sportsman of the year a record four times from 2005-2008. He has continued his winning streak till then until last Sunday when he won the Australian Open. Some are speculating that he might regain his number one status in the next few weeks. The key pick up is the drive to move up the ladder and how a winner keeps hovering up and down the world ranking but with continued performance.
Lesson 7: Don't tell the world
In 2013, Federer suffered a chronic spinal pain but he not want to call the trainer to court or to rub parts of his body after a gruelling set as his mentor and coach Carter had told him not show his weakness to a competitor. This require discipline and self-management which we have seen from the likes of Sachin Tendulkar and Usain Bolt. I guess this trait is exclusive to just a handful but an important lesson for a sportsman.
Lesson 8: Six months injury 
In July 2016, Federer had to undergo a serious knee injury and was side-lined for six months. Many distractors commented that this would be the start of his retirement given his age and many losses he faced. But Federer had other ideas and came back from rehabilitation to win the Australian Open in 2017 and then there after Wimbledon for the eight time which tells us of the grit he has to keep moving when the world says stop. An important point to note is that one must not allow the media to shape one's career. It has to be done within.
Lesson 9: Dreams happen 
Federer has a unique personal life. He married Mirka Vavrinec in 2009, a former professional tennis player. The couple has identical twin girls – Myla and Charlene. Then the second set of twins – boys Leo and Lenny. Insiders say that he balances his professional and personal life with sheer compartmentalisation that makes him a unique personality for his followers. An important lesson for sportsmen especially in a Sri Lankan culture where social gatherings are many.
Lesson 10: Prize money
Officially Federer has owned $115 million but analysis says that his sports endorsement are four times this value which makes him a 500-600 million dollar net-worth individual. Whilst he continues to live in Switzerland, he focuses on charity in his home country and Africa on the area of poverty alleviation – an important part of understanding the purpose of life and linkage to humanity.
(Reference: Federer Autobiography, sports interviews and analysts' views.)
Dr. Rohantha Athukorala
Dean – Faculty of Graduate Studies
http://www.ft.lk/columns/10-Federer-lessons-for-Sri-Lankan-sportsmen/4-648461